Cash expands remittance service to US, Canada, and Europe with Sendwave
GCash expands remittance in US, Canada, and Europe with Sendwave
To help Overseas Filipino Workers (OFWs) provide for their family's needs in the Philippines, especially during the pandemic, GCash adds a new international remittance partner – Sendwave. In partnership with GCash, Sendwave users may send remittances directly to their beneficiary's GCash wallet at Zero fee! To add to that, Sendwave is adding USD10, or approximately PHP500, to the OFW's beneficiary's GCash wallet when sending money to a GCash account for the first time,from October 1 to December 31, 2021.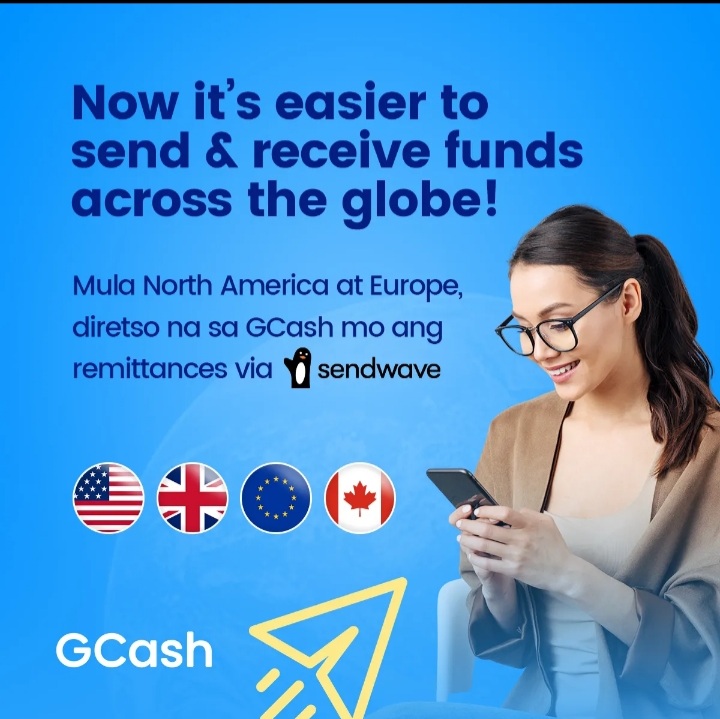 Sendwave is available in the US, Canada, and Europe, allowing Overseas Filipinos to send money back home to their families' GCash wallet instantly.
"We recognize that many families in the Philippines rely on the remittances OFWs send them, and that's why, at GCash, we strive to continuously offer safe and convenient services that benefit everyone. With GCash, sending money to loved ones and managing finances is easier for everyone, anywhere in the world, using only their mobile phones," said GCash AVP for International Remittance Jules Abalos.
GCash also offers more services for OFWs even beyond padala. Filipinos abroad with a Philippine roaming sim may download, register and use GCash wherever they are in the world. With GCash, they can also celebrate milestones, like birthdays and holidays, with their family and friends, even when they are miles away, by sending gifts via everyday deals and rewards on the GCash app.
On top of that, GCash also helps OFWs secure the future of their families. On the GCash app, they can easily access financial services such as GInsure for affordable insurance packages, GInvest for investments in stocks and bonds, and GSave to manage their financial savings.
Filipinos abroad can download the GCash app on Google Play or App Store and register an account, provided they have an active and roaming Philippine SIM card. OFWs can also download the Sendwave app on Google Play or the App Store for free.
For more information, visit https://www.gcash.com/services/.
About GCash
GCash (G-Xchange, Inc.) is the #1 Financial App in the Philippines. Through the GCash App, customers can easily purchase prepaid airtime; pay bills at over 600 partner billers nationwide; send and receive money anywhere in the Philippines, even to other bank accounts; purchase from over 2.5M partner merchants and social sellers; and get access to savings, credit, insurance and invest money all at the convenience of their smartphones. GCash has been a wholly-owned subsidiary of Mynt (Globe Fintech Innovations, Inc.) since 2015.
GCash was recognized by The Asian Banker (TAB) in 2021 for its outstanding digital financial inclusion programs impacting more than 46 million Filipinos in the country today.
For more information, please contact:
Chito Maniago
Vice President, Corporate Communications and Public Affairs
GCash
Email Address: corpcomm@mynt.xyz │ Facebook: http://www.facebook.com/gcashofficial
Read more about different stories of people, product reviews and events here on my blog and follow me on my social media accounts.
Read my column "Don't Miss This" at The Rizal Weekly Post
IG Name: www.instagram.com/Homeschoolingiscool
FB Name: www.facebook.com/ armi.pineda
Fb page:https://www.facebook.com/Homeiskoolcom
Www.facebook.com/HomeschoolWorld
Www.facebook.com/Kawaiibeautyandlifestylecom
Www.facebook.com/Mimiworldnet
YouTube Account: https://youtube.com/channel/UCAEszY-nm4XIPSphcppyilw
TikTok Account: https://vt.tiktok.com/ZGJkEHsLh/
Blog Site: www.Homeiskool.com
Www.Mimiworld.net
Www.Kawaiibeautyandlifestyle.com
Twitter
Www.twitter.com/Armipazpineda