It's raining affordable jewelry with Cebuana Lhuillier's
"Rainy Day Gold Rush Sale"
Buying and collecting gold jewelry go beyond aesthetics nowadays. With the value of gold continuously on an upswing and even expected to outweighs inflation risks (source), now is the best time to buy jewelry. It's an investment that you can use for your personal enjoyment, as well as a dependable source of cash in times of emergency.
Cebuana Lhuillier is giving its loyal clients and general public another taste of its widely-anticipated jewelry sales with the announcement of its "Rainy Day Gold Rush Sale," set to take place from July 13 to 19.
The country's most trusted micro financial services company is offering discounts
of 10% off plus up to 50% off for selected jewelry available in more than 3,000 branches nationwide. Meanwhile, clients can enjoy discounts up to 25% off when they purchase in any of Cebuana Lhuillier Jewelry Premium (CLJP) and Just Jewel branches nationwide.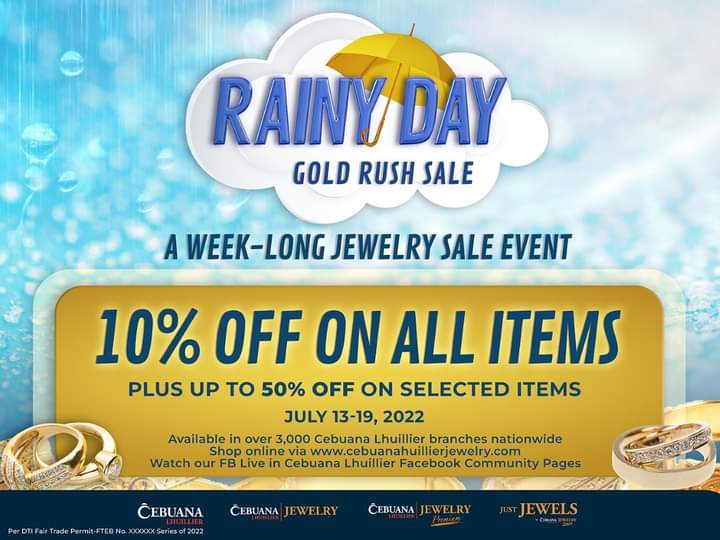 Jean Henri Lhuillier, Cebuana Lhuillier president & CEO, has always encouraged the public to take advantage of gold sales in order to build a sizable investment that can serve as back-up during times of emergency. "Unlike high-end gadgets, gold jewelry will never lose its value over time. Instead, it will serve as a good source of emergency fund during times of need. Buying jewelry will always serve as a wise purchase," he adds.
Contrary to the usual, pawnshops are also good source of jewelry. Buyers are assured on the quality and authenticity of the items purchased, especially since all the items offered have been thoroughly appraised.
Discounts can also be enjoyed in any of CLJP's online presence: through the official website of Cebuanalhuillierjewelry.com and any e-commerce platforms such as Shopee, Lazada, and Zalora, where all items available at a 10% discount.
For more information, go to www.cebuanalhuillier.com or visit https://www.facebook.com/cebuanalhuillierpawnshop.
###
Read my column "Don't Miss This" at The Rizal Weekly Post
IG Name: www.instagram.com/Homeschoolingiscool
FB Name: www.facebook.com/ armi.pineda
Fb page:https://www.facebook.com/Homeiskoolcom
YouTube Account: https://youtube.com/channel/UCAEszY-nm4XIPSphcppyilw
TikTok Account: https://vt.tiktok.com/ZGJkEHsLh/
Blog Site: www.Homeiskool.com
Twitter Www.twitter.com/Armipazpineda
Other social media accounts Www.facebook.com/Homeschoolingiscool
Www.facebook.com/Mimiworldnet
Www.facebook.com/Kawaiibeautyandlifestylecom
Www.facebook.com/Hometowngoodiesandservices
For collaboration you can email me at armipazpineda@gmail.com