Today's Classics
When you hear "classics," what comes to mind?
Maybe a tweed jacket, trench coat, or cashmere sweater,
beloved items that have stood the test of time.
But even these longstanding classics can evolve over the years.
Warmer and lighter jackets, water-repellent coats,
and knitwear made using WHOLEGARMENT® technology.
These updates maintain an authentic look
while adapting to the needs of today's lifestyle.
The lineup also features denim that requires much less water*,
jackets made using recycled down,
and fleeces spun from plastic bottles,
items that will guide us toward a sustainable future.
We've taken a balanced and holistic approach,
creating essentials that are made for all.
By designing classics for today that will last into the future,
UNIQLO makes LifeWear for today and for tomorrow.
WHOLEGARMENT is a registered trademark of SHIMA SEIKI MFG., LTD.
*Data is based on a study of Regular Fit Jeans (68 Blue) between 2017 and 2018. Water savings will vary slightly between products.
August 31, 2022 Manila, Philippines – Japanese global apparel retailer UNIQLO redefines what
classics are with the launch of its Fall/Winter 2022 collection. Dubbed Today's Classics, the new
collection of LifeWear is filled with wardrobe staples that have been reinvented to adapt to the
needs of today's lifestyle.
"There is a reason why our LifeWear pieces such as the tweed jacket, trench coat, or cashmere
sweater are loved through the years. They are designed well and effectively serve their purpose.
UNIQLO, however, believes that even these classics can evolve with the times. That's the
inspiration behind this season's collection," says Geraldine Sia, UNIQLO Philippines' COO.
For Fall/Winter 2022, UNIQLO has designed warmer and lighter jackets, water-repellent coats,
and knitwear made using *WHOLEGARMENT® technology. Emphasizing sustainability, this new
collection features denims that require much less water during production, and jackets and
fleeces made from recycled plastic bottles.
*WHOLEGARMENT is a registered trademark of SHIMA SEIKI MFG., LTD.
Below are some of the highlights of Today's Classics:
OUTERWEAR
UNIQLO has expanded its collection of outerwear to suit a wide range of lifestyles and settings,
from shirt jackets to chic wool coats.
Women's Ultra Light Down Jacket
The Ultra Light Down Jacket has been redesigned to make it more fashionable. Now lighter
and softer but still durable, the water-repellent coating protects the wearer from rainy days,
while the pocketable feature allows it to be stored when not in use.
Women's Corduroy Cropped Jacket
The cropped length in a boxy fit gives this jacket a sleek look, but the relaxed fit and dropped
shoulders make it cozy to wear. Its classic corduroy fabric is washed for a softer look.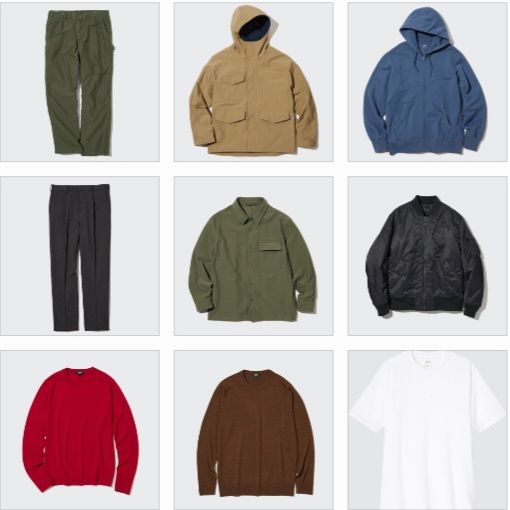 Women's Fluffy Yarn Fleece
This is the ultimate in coziness: the fuzzy fleece is made with long-pile yarn for a warm, light,
and soft feel with a natural stretch. The length extends to the hips for added warmth and
coverage.
Men's MA-1 Blouson
This wardrobe essential comes in a modern silhouette with classic details. Its voluminous and
relaxed fit is complemented by its lightweight yet durable nylon twill outer layer. The water-
repellent coating protects the wearer from the rain.
Men's Over Shirt Jacket (Jersey)
The workwear-style texture gives the jacket a rugged look, but the comfortable and lightweight
jersey fabric features a loose-fitting cut for a relaxed fit.
Men's Utility Parka
The parka has been updated for a more relaxed and casual fit. Its design is practical with five
pockets at the waist, chest, and the interiors.
KNITWEAR
Continually evolving knitwear is a UNIQLO masterpiece. This season, the highest quality has
been achieved by employing the latest in knitting technologies, further refining the silhouette
and enhancing comfort.
Women's 3D Knit Cotton Dolman Long Sleeve Sweater
The 100% cotton sweater is gentle on the skin. It features textured knitting and a stylish
silhouette, with dolman sleeves for added volume.
Women's 3D Knit Cotton Crew Neck Half Sleeve Sweater
This sweater is made with 100% cotton and is designed with a relaxed fit and voluminous sleeves.
The stylish straight fit with slits at the sides promises a comfortable fit around the waist. This
garment can go from dressy to casual depending on the styling.
Women's Extra Fine Merino Ribbed Half Sleeve Short Sweater
This piece is made with extra fine Merino wool for a glossy sheen and smooth feel. The sleek
wide-ribbed fabric skims the lines of the body, while the short length gives a balanced style.
Men's Middle Gauge Knitted Crew Neck Vest
The vest features a thick yarn that produces a light and comfortable feel. This garment changes
its style depending on the size. Wear the usual size for a neat look, or go for a bigger version
for a casual style.
Men's Extra Fine Merino Crew Neck Long Sleeve Sweater
This classic item uses extra fine Merino wool for a premium and smooth touch. The knit has
been updated to make the sweater look more beautiful.
BOTTOMS
This season, UNIQLO focuses on trendy and fresh-style wide pants. The wide range of variations
and styles includes everything from clean-looking pleated pants to casual baggy jeans.
Women's Drape Flared Pants
These pants are made from crepe fabric with an elegant drape and the center pleats create a
flattering effect. They are wrinkle-resistant for easy care.
Women's Corduroy Wide Pants
The supple, fine-wale corduroy has a high-waisted and wide-leg cut for a flattering effect. Its
silky sheen also adds an elegant touch.
Women's Baggy Jeans
The jeans showcase the authentic look of rigid denim even if it's made with 100% cotton. Its
full-length inseam and double-needle stitching create a leg-flattering effect.
Men's Pleated Tapered Pants
UNIQLO updated its Pleated Tapered Pants with a new wide cut. The pants also come in a
warm fabric while its pleats create a relaxed feel and an elegant drape.
Men's Wide Fit Work Pants
Its design is based on classic painter pants, in a wide fit for casual styling. The moleskin fabric
creates a warm and casual feel.
SPORT UTILITY WEAR
Sport Utility Wear is designed for today's varied and ever-changing active lifestyles. The pieces
are designed with functionality and style in mind, so they can be worn during sports, outdoors,
and even as everyday wear.
Women's Dry Sweat Cropped Full Zip Hoodie
UNIQLO combined polyester and rayon to create a sweatshirt with a comfortable fit and a
high-quality, durable texture. The loose-fitting silhouette and cropped length give it a versatile
and casual feel. DRY technology wicks moisture away from the skin and dries it quickly.
Women's Ultra Stretch Active Jogger Pants
These high-performance pants are quick-drying and allow easy movement. The crisp fabric
flatters the body's contours and the sleek cut is flattering.
Men's Sweat Full Zip Long Sleeve Hoodie
The hoodie is updated with a trim design and a fabric that is less prone to shedding. Its relaxed
fit is roomy around the shoulders and chest to make it a great outer layer.
Men's DRY-EX Crew Neck Short Sleeve T-Shirt
The performance shirt has ergonomic mesh holes for greater breathability. It is a great choice
for sportswear: the raglan sleeves make it easier to move during sports, while the underarm
paneling was removed to minimize seam contact with the skin.
HEATTECH
HEATTECH is made with bio-warming material, providing warmth without the bulk. It also
uses technology to convert body moisture into heat, keeping the wearer comfortable during the
cold season.
Women's HEATTECH Ultra Stretch High Rise Leggings Pants
These leggings feature a warm brushed lining with HEATTECH technology for comfort and a
high-rise design that works well with a cropped top or with a top tucked-in. It also has a
pocket, a stitch work, and buttons expertly designed for a pants-like look.
Women's HEATTECH Ultra Stretch Slim Jeans
UNIQLO's HEATTECH Ultra Stretch Slim Jeans has an updated fabric for a more authentic
denim look while keeping the roomy fit around the waist with its warm brushed HEATTECH
lining.
Men's HEATTECH Warm Lined Pants
These pants are lined with HEATTECH fleece for softness and warmth and have practical
zippered seam pockets for convenience. It is also updated with a sleeker cut, an easy waist
buckle, and a water repellent coating.
SPECIAL COLLECTIONS AND COLLABORATIONS
UNIQLO's special collections and collaborations showcase how the innovative, forward-thinking
principles of LifeWear meet the signature styles and perspectives of the world's best designers
and fashion brands.
UNIQLO U
Artistic Director Christophe Lemaire and his team in Paris reimagine everyday clothing using
innovative materials and contemporary silhouettes. These LifeWear essentials are designed with
the highest precision in the pursuit of a simplified and modern wardrobe.
Hana Tajima
UK-born fashion designer Hana Tajima is changing the way women dress all over the world
with her designs that channel refined elegance and effortless comfort. This season features
elegant forms and soft silhouettes in dresses with simple yet iconic stylings.
Ines de la Fressange
Ines de la Fressange embodies modern Parisian chic in her collections. This season brings
effortless French style to the world through the idea of the uniform, an eternal standard in
fashion and one of de la Fressange's essential styles.
JW Anderson
JW Anderson is regarded as one of London's most innovative and forward-thinking brands. For
Fall/Winter 2022, the two brands were inspired by the season in the British countryside. Think
comfortable, worn, and cozy.
UT Archive
From the original art of the Pop Art movement to legendary manga and streetwear gods, the
UT Archive lineup offers revived t-shirts that reflects the origins of a diverse array of cultures
and artists.
For more updates, please visit UNIQLO Philippines' website at uniqlo.com/ph and download the
UNIQLO APP via Google Play Store or Apple Store.
Follow UNIQLO Philippines' social media accounts, Facebook (facebook.com/uniqlo.ph), Twitter
(twitter.com/uniqloph), and Instagram (instagram.com/uniqlophofficial).
About UNIQLO LifeWear
Apparel that comes from the Japanese values of simplicity, quality, and longevity. Designed to be of the time and for the time, LifeWear is
made with such modern elegance that it becomes the building blocks of each individual's style. A perfect shirt that is always being made more
perfect. The simplest design hiding the most thoughtful and modern details. The best in fit and fabric made to be affordable and accessible to
all. LifeWear is clothing that is constantly being innovated, bringing more warmth, more lightness, better design, and better comfort to people's
lives.
About UNIQLO and Fast Retailing
UNIQLO is a brand of Fast Retailing Co., Ltd., a leading Japanese retail holding company with global headquarters in Tokyo, Japan. UNIQLO is
the largest of eight brands in the Fast Retailing Group, the others being GU, Theory, PLST (Plus T), Comptoir des Cotonniers, Princesse tam.tam,
J Brand and Helmut Lang. With global sales of approximately 2.13 trillion yen for the 2021 fiscal year ending August 31, 2021 (US $19.4
billion, calculated in yen using the end of August 2021 rate of $1 = 109.9 yen), Fast Retailing is one of the world's largest apparel retail
companies, and UNIQLO is Japan's leading specialty retailer.
IQLO continues to open large-scale stores in some of the world's most important cities and locations, as part of its ongoing efforts to
solidify its status as a global brand. Today the company has a total of more than 2,300 stores across the world, including Japan, Asia, Europe
and North America. In 2010 UNIQLO established a social business in Bangladesh together with the Grameen Bank and currently there are
more than 15 Grameen-UNIQLO stores, mostly located in Dhaka.
With a corporate statement committed to changing clothes, changing conventional wisdom and change the world, Fast Retailing is dedicated
to creating great clothing with new and unique value to enrich the lives of people everywhere. For more information about UNIQLO and Fast
Retailing, please visit www.uniqlo.com and www.fastretailing.com.
For Feature/Promotion and reviews follow me
⬇️⬇️⬇️⬇️⬇️
Read my column "Don't Miss This" at The Rizal Weekly Post
IG Name: www.instagram.com/Homeschoolingiscool
FB Name: www.facebook.com/ armi.pineda
Fb page:https://www.facebook.com/Homeiskoolcom
YouTube Account: https://youtube.com/channel/UCAEszY-nm4XIPSphcppyilw
TikTok Account: https://vt.tiktok.com/ZGJkEHsLh/
Blog Site: www.Homeiskool.com
Twitter
Www.twitter.com/Armipazpineda
Other social media accounts
Www.facebook.com/Homeschoolingiscool
Www.facebook.com/Mimiworldnet
Www.facebook.com/Kawaiibeautyandlifestylecom
Www.facebook.com/Hometowngoodiesandservices
For collaboration you can email me at Armipazpineda@gmail.com