FamilyMart Philippines brings more authentic flavors of Japan for everyday enjoyment of Filipinos with its latest food offering—the original, on-the-go Japanese creation called onigiri.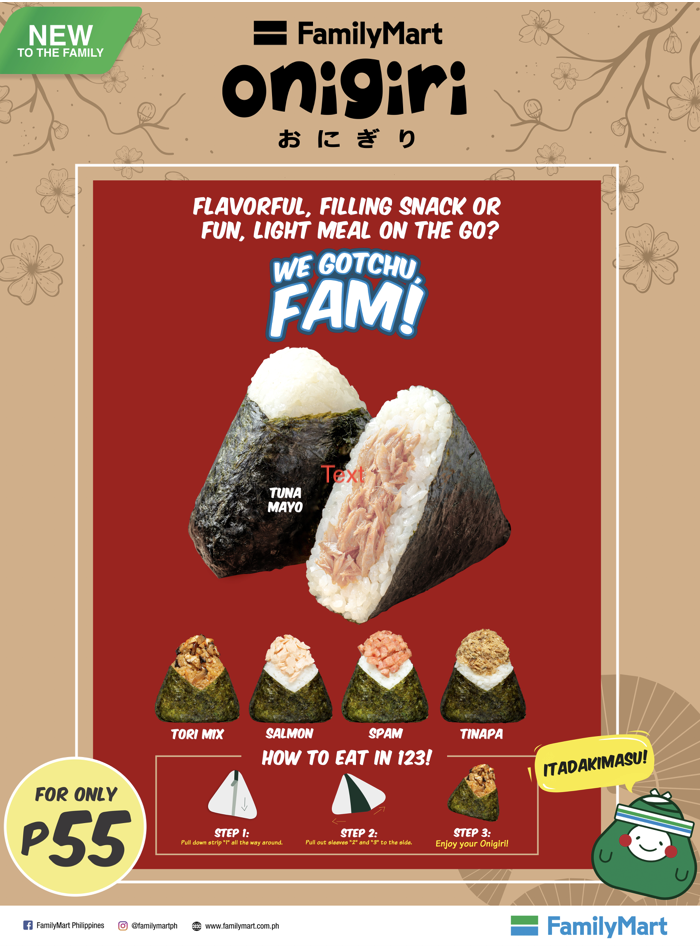 This popular and well-loved food item is iconic for its handy triangular shape, made with a scoop of scrumptious sushi rice enveloped by crispy nori. Inside this hefty package is a sumptuous and savory filling that will surely satisfy any hunger pangs, whether it be breakfast, lunch, dinner or anytime in between.
FamilyMart's tasty onigiri range comes in salmon, tuna mayo, and tori mix variants, plus a truly unique fusion Filipino concoction of tinapa or smoked fish, as well as a Western version with Spam filling.
FamilyMart ensures only the highest quality and finest taste of its onigiri by using fresh ingredients and traditional Japanese condiments, under the stringent standards of in-house Japanese product developer Norio Suwa.
Onigiri was among the exclusive food items that took centerstage when FamilyMart's largest store in Manila—located at the ground floor of Udenna Tower in Bonifacio Global City, Taguig—opened in November 2019. The good news is that now, it will be available in more branches within the district.
Beginning March 3, fans can enjoy onigiri at FamilyMart stores at Central Square, Fort Victoria Condominium, Science Hub 3, Twenty Five Seven Building, Trade and Finance Tower, W Fifth Avenue, BGC Corporate Center, Bonifacio Stop Over, Market! Market! and One Park Drive.
FamilyMart onigiri goes for P55 per piece, and P65 when paired with a refreshing glass of iced tea or lemonade. Being both convenient and absolutely oishi, the FamilyMart onigiri is just the perfect answer to keeping full and satisfied despite those daily busy moments!
See more:PAGEONE Spotlight