Manila Philippines – The pandemic has made it difficult for people to move around to acquire basic necessities such as food and medicines, not just because of lockdowns, but because of running a higher risk in catching COVID-19 especially in high foot traffic places such as restaurants, groceries, or pharmacies. It is this predicament that Sanofi tries to remedy in their newest collaborations.
Dedicated to improving access to healthcare, Sanofi has collaborated with Watsons, Southstar Drug, and Rose Pharmacy to offer an easier way for patients to take better care of their health. Patients with diabetes, hypertension, kidney disease, and other lifestyle diseases may now order their prescription medicines either online or via phone, and have them delivered straight to their doors or pick up at their preferred branch sans the waiting. The collaborations started in May 2021, and are continuing to activate even more pharmacies in order to reach more patients.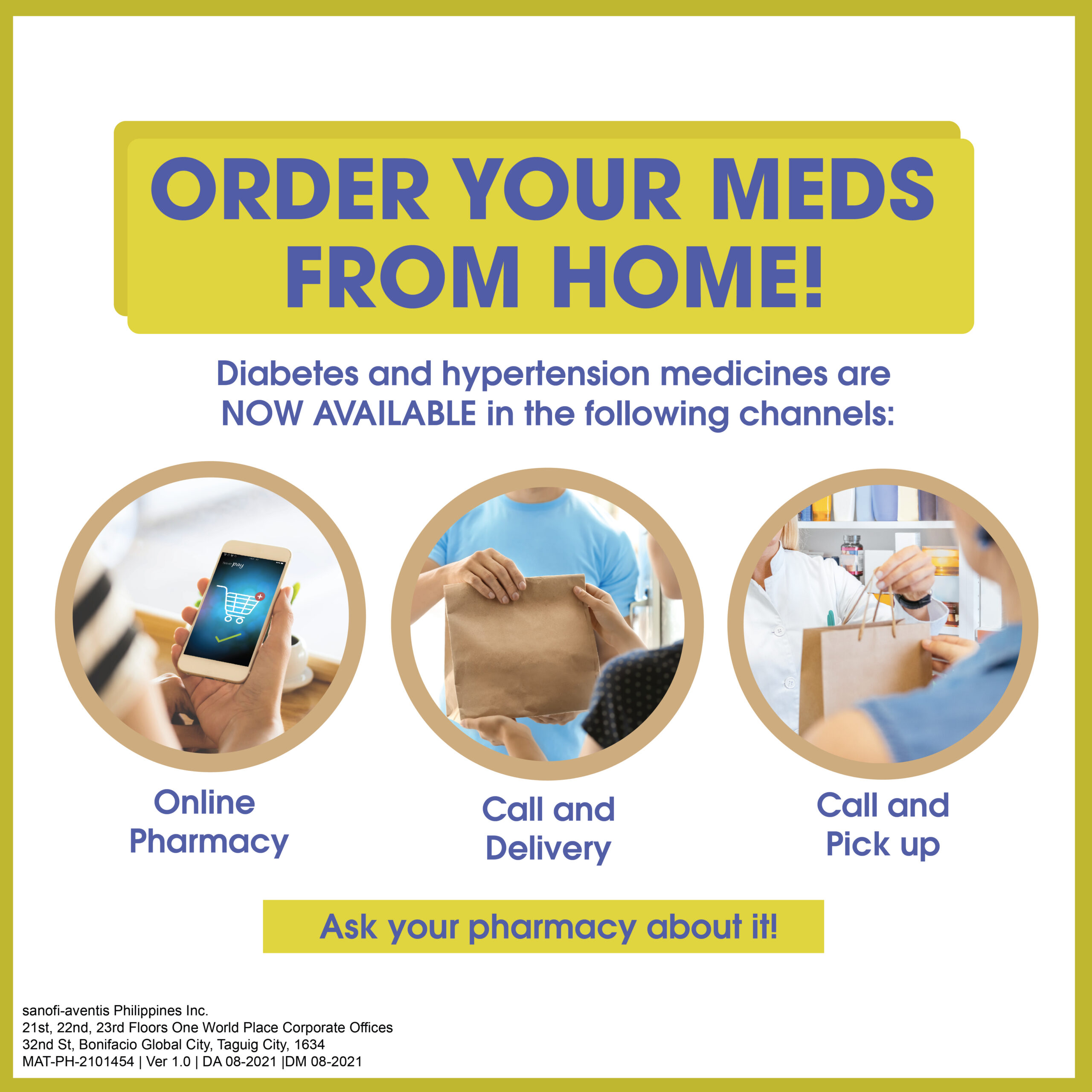 Keeping in mind the pandemic and the health and safety protocols that we have to follow to ensure our well-being, Sanofi's collaboration with these pharmacies fills the current need and demand for insulin and other medicines that require proper cold chain management. Their respective delivery services ensure that medicines like Insulin are properly handled to maintain their efficacy. With just a call or a click, patients and their caregivers can easily order medicines, and are no longer forced to step out of the house and run the risk of exposing themselves to the virus.
In order to ensure that insulins and other medicines are properly handled and delivered, Sanofi has provided their expertise on cold chain management and has standardized the handling of these medicines throughout different branches of the pharmacies located strategically in key cities all over the country. Anyone with a valid prescription can avail the e-pharmacy services especially for prescription medicines. Pharmacies have systems in place on how they will validate the purchase of these products in the e-pharmacy channel as required by law.
In a bigger effort to improve healthcare, most critical in these times, these collaborations are not exclusive to Sanofi medicines but include other medicines that need proper cold chain storage handling in order to reach the patients. As a global healthcare leader, this is a bold initiative of Sanofi that patients will be able to obtain insulin in the most convenient way.
Sanofi's newest Second Generation Insulin  is also made available through this channel. Compared to the first generation insulin, the newer insulin is recorded to have improved effects on patients' blood sugar, as well as a lower risk for abnormally low levels of blood sugar. It has also been innovated to have a more gradual drug release and therefore less painful when injected.
"Innovative medicines are crucial in moving us forward, to keep us looking for ways to make treatments better for our patients. We continue to create these innovative solutions to meet the needs of our patients. We always endeavor to improve patient access to proper treatment and education, and with these collaborations, we're ensuring that patients with diabetes from all over the country have access to innovative medicine," says Dr. Amal Makhloufi, country lead for Sanofi Philippines.
As patient needs continue to change, Sanofi adapts to the times and continues to innovate solutions to provide the utmost care for patients. These collaborations are part of that continuous effort to build a healthier Philippines by creating newer and better ways for them to access the best healthcare possible.
In line with their dedication to be the best healthcare journey partner to Filipinos, Sanofi also launched the Empower Program, where continuous care and coaching is provided to patients by doctors and diabetes educators. They are also working with Ayala Healthcare Holdings Inc. (AC Health) to promote a more holistic approach to patient care by properly educating patients on their disease, empowering patients to create informed decisions about their care, making them more confident in managing their conditions. KiDS (Kids and Diabetes in Schools) and Youth Health Patrol were also launched with support from the Department of Education, University of Asia and the Pacific, and APB Foundation, aiming to educate the youth about the benefits of living a healthier lifestyle.
For more information, visit https://www.watsons.com.ph/call-and-delivery-list-of-stores
https://southstardrug.com.ph/collections, https://www.rosepharmacy.com/ 
About Sanofi Philippines
Sanofi is dedicated to supporting people through their health challenges. We are a global biopharmaceutical company focused on human health. We prevent illness with vaccines, provide innovative treatments to fight pain and ease suffering. We stand by the few who suffer from rare diseases and the millions with long-term chronic conditions. With more than 100,000 people in 100 countries, Sanofi is transforming scientific innovation into healthcare solutions around the globe.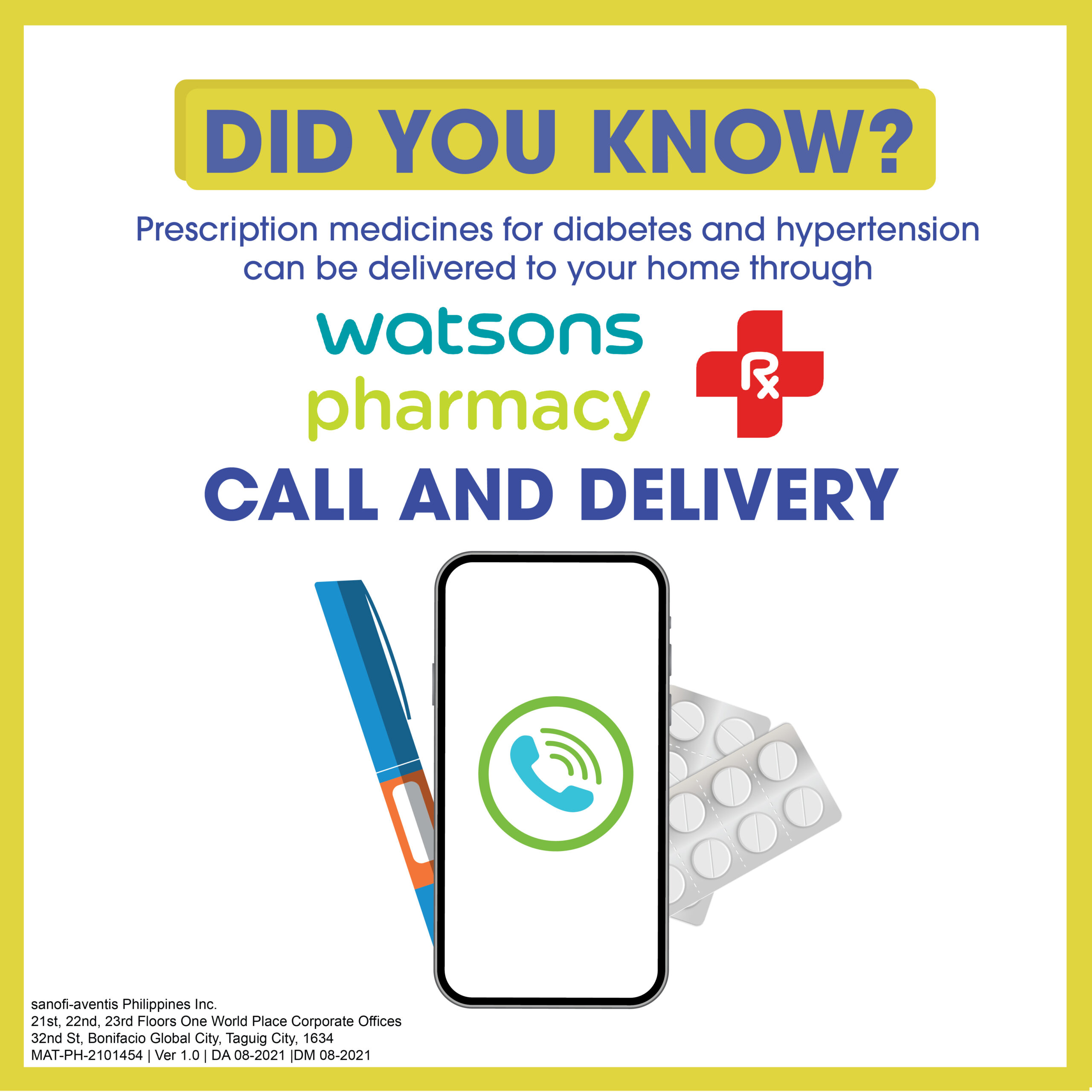 About Watsons
Watsons is Asia's leading health and beauty retailer, and the largest in the world, with over 16,000 stores.Their promise to customers – Look good, feel great – by going extra mile, by bringing smiles to people's faces, and by providing the best of health, wellbeing, beauty and personal care in the stores and online.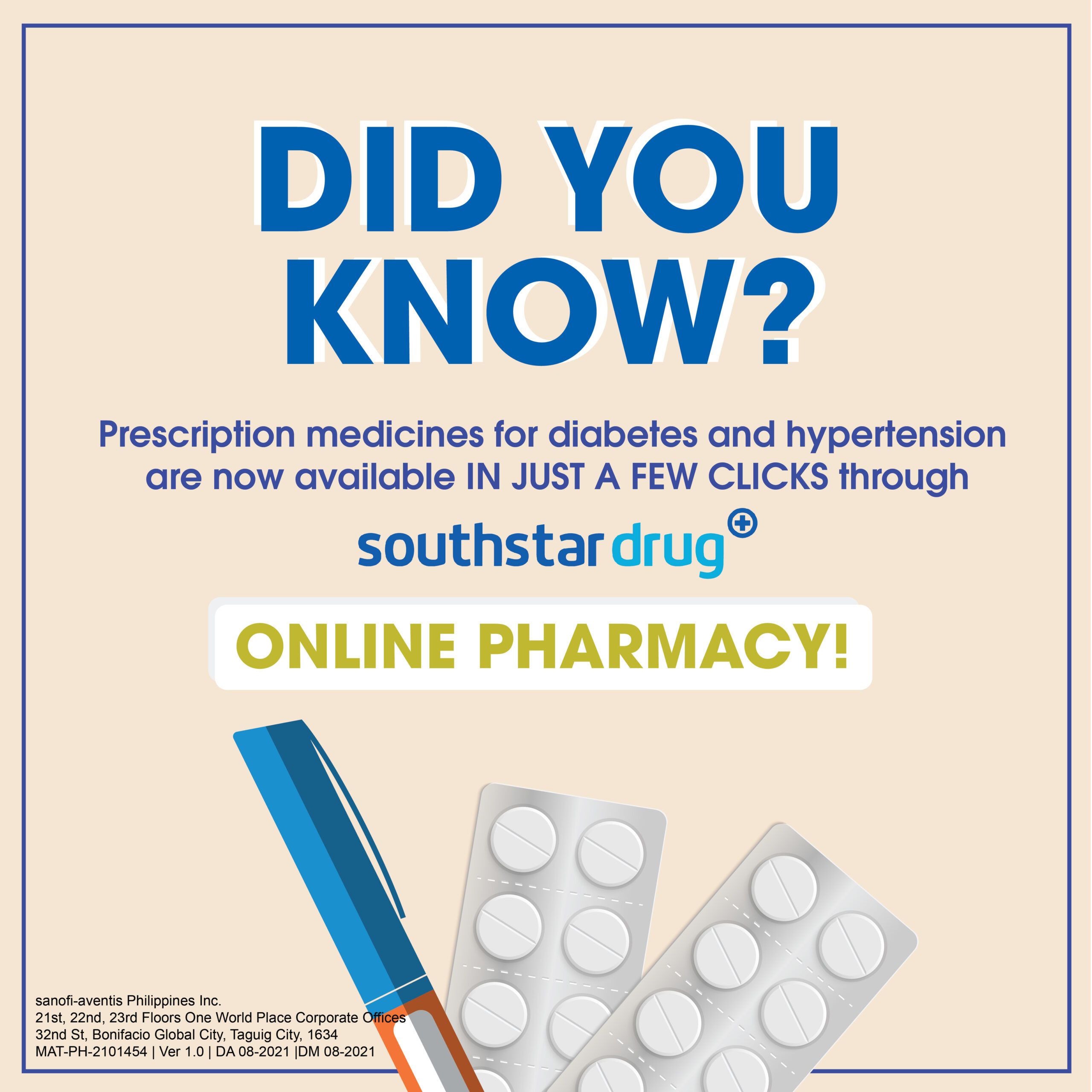 About Southstar Drug
Southstar Drug is owned and run by Robinson's Retail Holdings, Inc. and belongs to the top 1000 corporations in the country. It has expanded its reach to Southern Luzon, Northern Luzon, Visayas region, along with the islands of Mindoro, Masbate, and Virac. They have over 500 branches nationwide.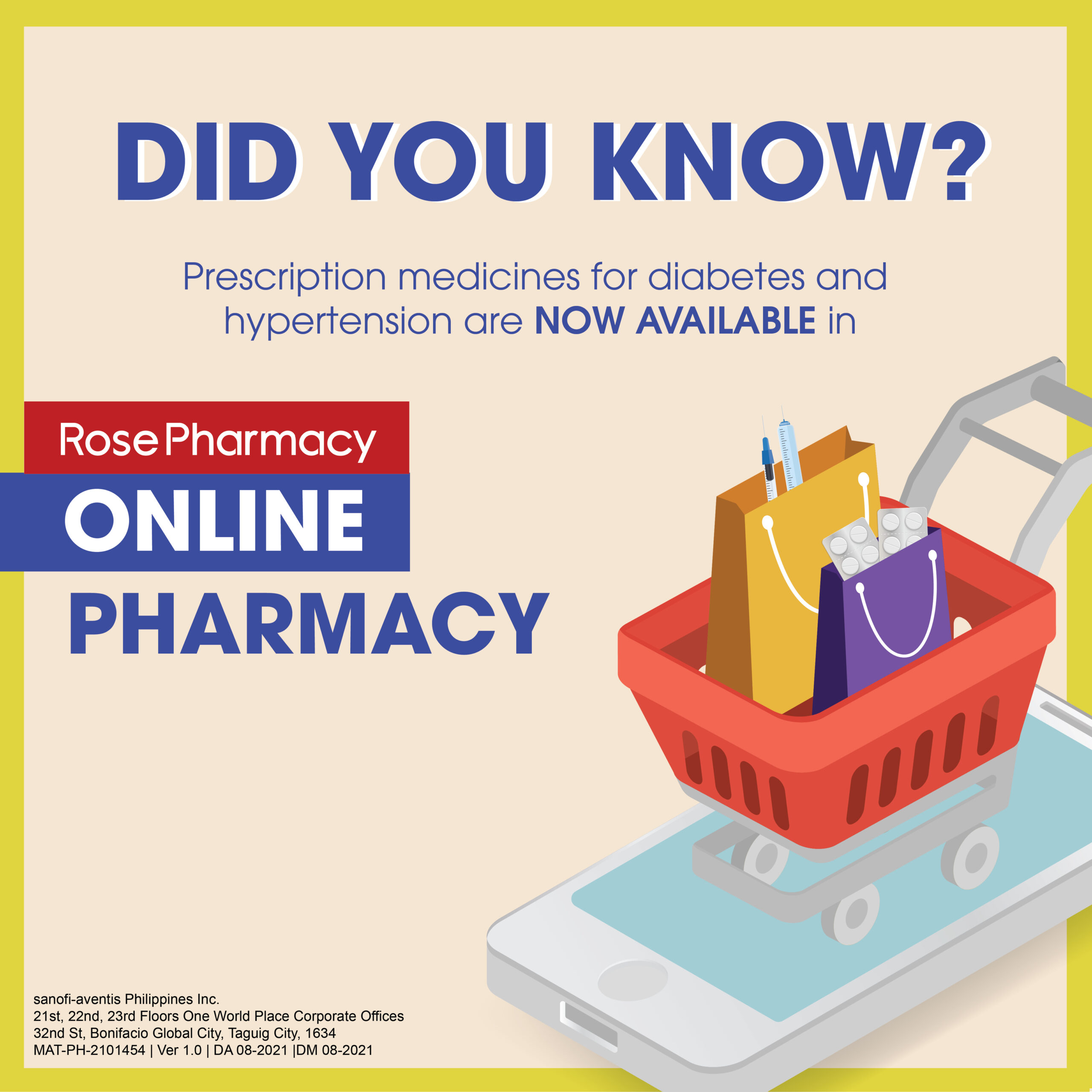 About Rose Pharmacy
Rose Pharmacy joined forces with Robinsons Retail Holdings Inc. (RRHI), the second largest retailer in the country, in October 2020. They offer a competitive health and beauty shopping experience to customers. They have recently expanded their services to cater to customers in the comfort of their homes with RosExpress Delivery, as well as a nationwide delivery for their medicines through an online service.
 Read my column "Don't Miss This" at The Rizal Weekly Post
IG Name: www.instagram.com/Homeschoolingiscool 
FB Name: www.facebook.com/ armi.pineda
Fb page:https://www.facebook.com/Homeiskoolcom
YouTube Account: https://youtube.com/channel/UCAEszY-nm4XIPSphcppyilw
TikTok Account: https://vt.tiktok.com/ZGJkEHsLh/
Blog Site: www.Homeiskool.com
Twitter Www.twitter.com/Armipazpineda
Other social media accounts
Www.facebook.com/HomeschoolWorld
Www.facebook.com/Mimiworldnet
Www.facebook.com/Kawaiibeautyandlifestylecom
Www.facebook.com/Hometowngoodiesandservices
For collaboration you can email me at Armipazpineda@gmail.com