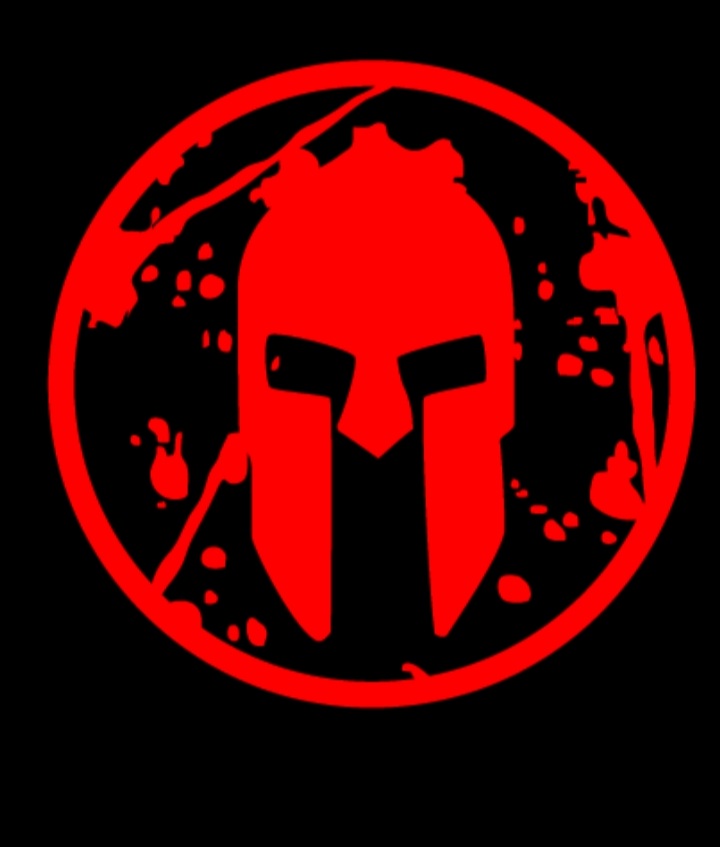 Spartan is a global experiential sport and wellness brand with a 10 million+ strong community. We create transformational experiences, products, and content to help people, companies and teams tear down boundaries and expand what they believe to be possible. Spartan combines large scale global events with a vibrant digital content and community platform. With 250 events across more than 40 countries on six continents, Spartan is the world's leading wellness and endurance brand. Visit spartan.com for more information and registration.
Spartan started in the Philippines in 2017 with the inaugural Spartan Sprint in Timberland, Rizal. This 2021, Spartan Philippines partnered with Batangas Lakelands to deliver an out of the ordinary race course by building a semi-permanent structure at the facility to cater to racing in the new normal.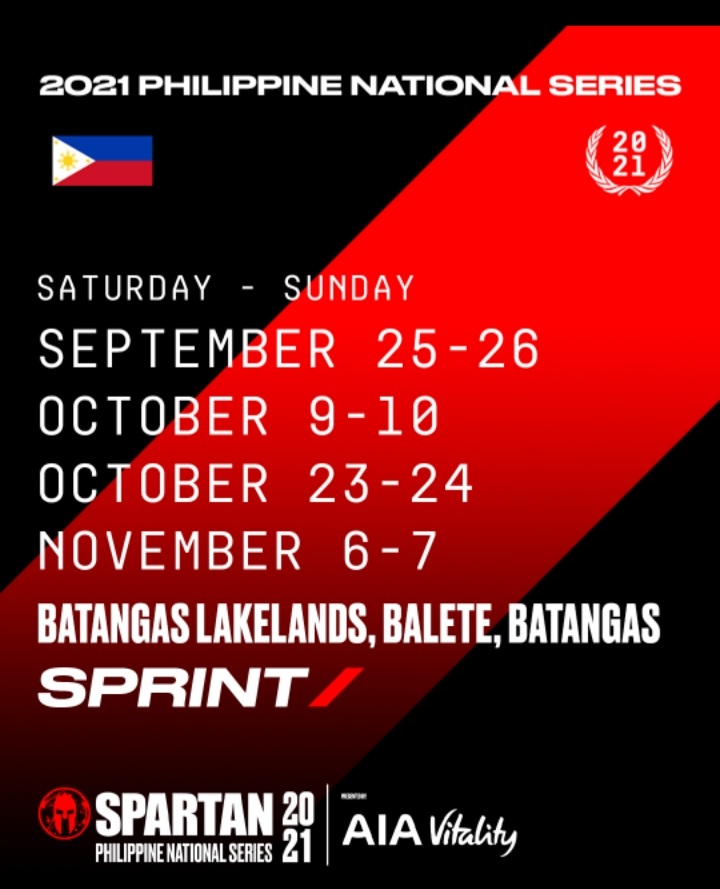 2021 Spartan Race Events:
September 25 and 26 Spartan Race Sprint –
5KM/20 Obstacles Batangas Lakelands, Balete, Batangas
October 9 and 10
October 23 and 24
November 6 and 7
December 18 and 19 Spartan Race Beast, 21KM/30 Obstacles
Spartan Race Ultra, 50KM/60 Obstacles Lima Technology Park
Batangas
November/ TBD Spartan Extreme Endurance
12 Hour San Antonio, Zambales
October-December Virtual Spartan Trail Select Trail routes all over the country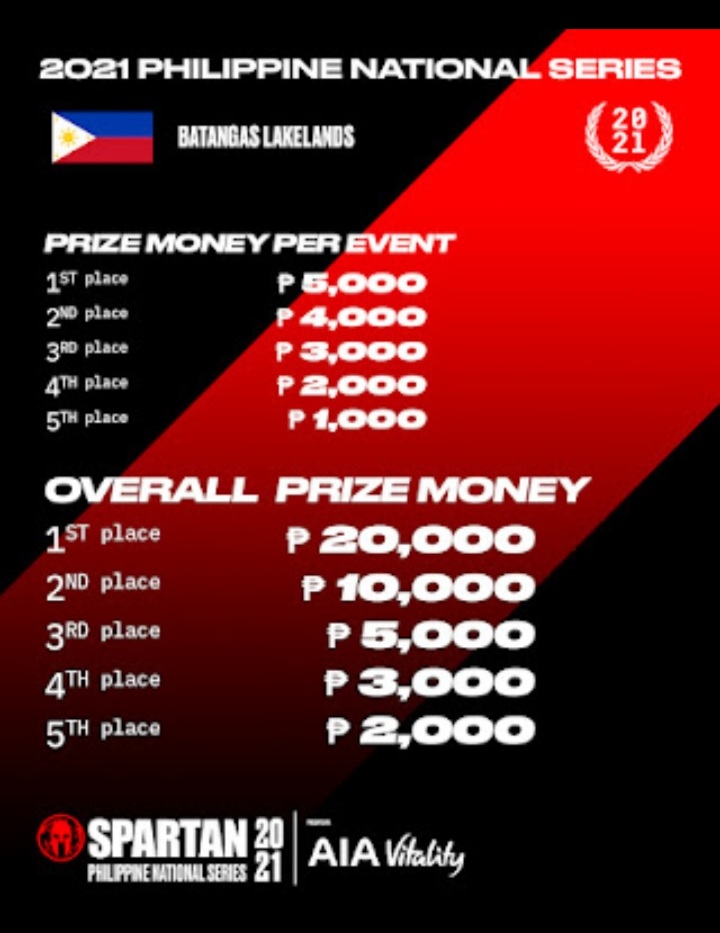 Aside from this we will also be launching new races for 2022 in the Philippines:
• The first ever Asian-based qualifying race for La Ruta, the hardest mountain bike race in the world, traversing Costa Rica from coast to coast, from the Pacific Ocean to the Atlantic, over a grueling three-day period.
• Spartan Stadion is a 5 km, 20 obstacle race through the world's most famous pro sports stadiums. In this modern twist on an ancient Greek tradition, competitors will race through every inch of a landmark stadium in the Philippines.
• DEKA™, the decathlon of functional fitness designed for all levels. This event emphasize training with a purpose, exercise gamification, and plenty of opportunities to celebrate personal fitness, combining ten functional training zones each proceeded by 500 meters of running (5k total).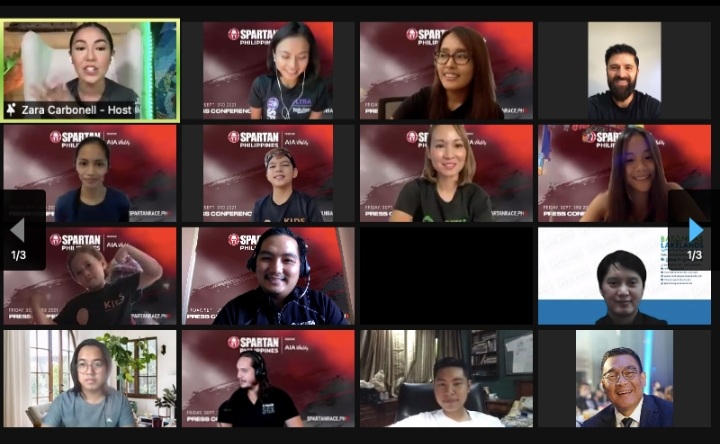 The Spartan Ambassador Program
Spartan ambassadors are athletes who inspire others to get off their couches and race. Beyond that they are representative of the ideals and attitude of a Spartan, not only are they successful in sports and fitness but they also embody the Spartan spirit of community, commitment, and never giving up. Over the years Spartan Race Philippines has been fortunate to have a strong and solid roster of ambassadors and this year is no different:
Just when you thought winning the sought-after All American Athlete award was tough enough, Filipino-German Steve flies across the world to bag more gold medals across various sports. From being a track athlete, to basketball, American football, to being one of the few chosen athletes to represent the country on the National Rugby Team; he has taken professional athleticism to an all-time high.
Steve continues his curiosity for athleticism by stepping into more intricate challenges like Spartan Race, where he placed 1st on his age group, and the American Ninja Warrior Philippine Qualifiers, where he came out as a finalist.
Actor, model and certified Spartan, Lharby is one of the most bankable social media influencers in the country.
At first he never planned to be big on Instagram. But eventually, it became a way for him to reach his audience at a more personal level and inspire people to take care of their body and live a healthy lifestyle.
One of the movers and shakers of the Health and Fitness Industry in the Philippines, JP is an entrepreneur, certified nutritionist and acclaimed bodybuilder that have brought a lot of pride to the country.
A national athlete for Pilipinas Obstacle Sports Federation for both Ninja and Parkour. Kaizen is the youngest gold medalist last 2019 at SEA Games – Obstacle Sports. She recently clinched 15th at UNAA World Ninja Championship.
Kaizen was also featured in Fearless Filipinas as one of the 12 Women Who Dared to be Different.
A Certified Spartan Mom haling all the way from Cebu, Brigitte is the Vice President of Topline Group of Companies.
Brigitte keeps an active lifestyle with array of sports from Rock Climbing, Scuba Diving, and of course, Obstacle Course Racing.
Kitch is a dog mom, a full-time employee, a vegetarian, and devotes her free time to community coaching.
She has joined 19 Spartan Races and 5 Spartan Endurance Events since 2017. Coming from a zero sports background, Kitch ran her first race with a 5-km Sprint which she proudly finished in more than three hours. One year forward, her fitness journey brought her to having multiple podium finishes, including the Southeast Asian Championship for her age group which allowed her to win 2nd place in the Asia Pacific Championship. Before she captivated the world in her debut during the 2019 World Para Dance Sport.
Championships in Bonn, Germany, Lairca or Rei to her friends pushed herself by joining Spartan Race Events along with her team.
Juggling not only her love for sports and being a working student, Rei has also been active in Youtube, sharing beauty, lifestyle and travel videos that promotes self-efficacy and empowerment among people with disabilities.
For Aga, being virtually impaired does not get in the way of running Spartan Events. With just a year of doing OCR, Aga has finished a Spartan Beast and has even joined Hurricane Heats.
He asserts that running has become his outlet to feel alive again, proving that regardless of his condition he will be able to make his every run an adventure in life.
In 2019, Rkin joined his first Spartan Race and instantly got hooked and fell in love with the sport. His enthusiastic and charming personality aids the advocacy of Spartan Kids to inspire youngsters to get out, be active, and most of all, enjoy themselves.
Rkin aims to influence his generation to achieve goals, conquer obstacles, and celebrate accomplishments – all that while having tons of fun and always having a great time.
Nicolette lives and breathes Spartan. At her young age, she joins Spartan community workouts prior to her first race in Spartan Kids Vermosa back in 2019.
Even the lockdown could not stop her from doing what she likes best, she continued her training and did not miss the Virtual Spartan Kids.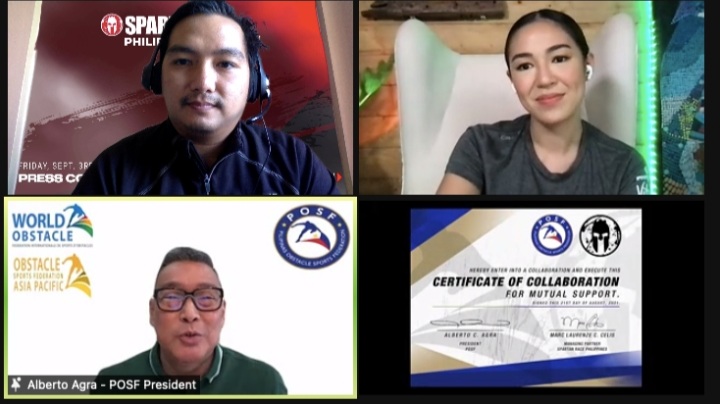 SGX Coach Marc is the head coach of Spartan SGX Kalabaw, together with his team of coaches and training team they go around teaching and are available virtually to get people back to fitness.
SGX Coach Xenos is an engineer by profession and a spartan coach at heart, the first ever Pinoy SGX coach has been busy along with Team Bato making sure Philippines does not ran out of capable athletes to represent the country all over the world.
Coach Frida is a resident SGX Coach at Fitness First Philippines, Spartan's Fitness Partner. Together with other SGX coaches, they make sure members are race ready any given day.
SGX Coach Iris is with Team Titan , she first started in the fitness community as a runner and have been one of the most trusted coach when it comes to leveling up an athlete's training.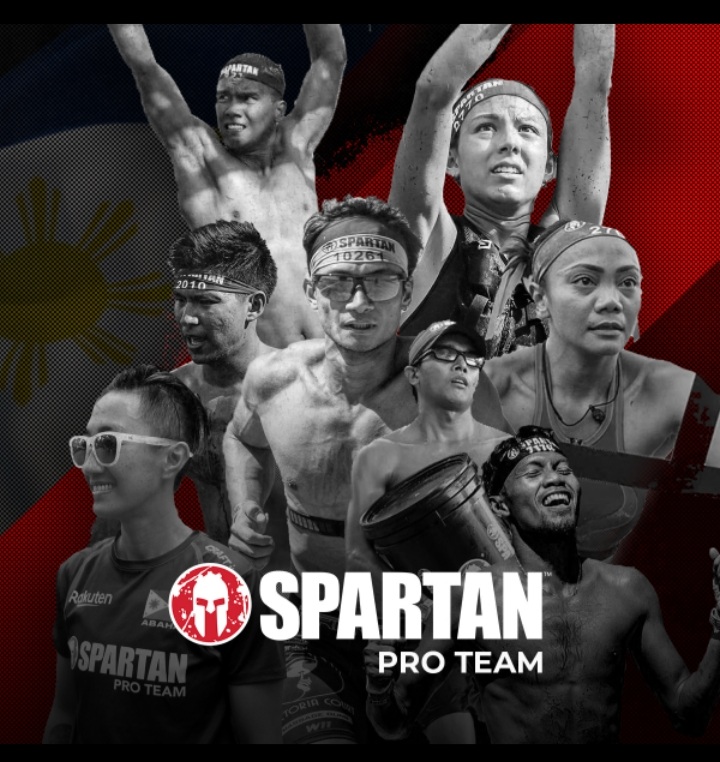 Spartan Pro Team
The Spartan Pro Team was made to showcase that there are serious athletes who travel to compete all over the world nearly every weekend, chasing not just fire jumps but podium finishes as well. It furthers our dream to see "OCR in the Olympics" in the coming years. In fact, with the collaboration Spartan Philippines has with Pilipinas Obstacle Sports Federation through its president Atty. Al Agra, the pro team will be able to represent the country both for the Spartan Trifecta World Championships in Greece and the Spartan World Championship in Abu Dhabi this year.
Pro Athlete Short bio Images
Gabb Rosario
(Team Captain) Athlete, father, trainer, and a leader. Gabb is one of the best in the field of pushing his limits to the test especially when diving into a new sport like OCR. Gabb has competed in all Spartan Races in the Philippines and competed on a global scale aiming to continue his feat representing the Philippines this December in Abu Dhabi for the 2021 Spartan World Championship. Currently, he is part of the 2021 POSF National Developmental pool for OCR Long distances.
Jeff Reginio Training never stops. A full time employee gives so little time for training to the extreme but Jeff defies the odds and proves otherwise. Jeff consistently strikes down the course with speed and finesse giving us a reason why he is a top class athlete. He is currently part of the 2021 POSF National team for OCR Short distances and bagged the 2019 SEA games gold medalist for the OCR Team Relay category.
Sherwin Managil Loud and proud from Cebu, Sherwin Managil is a professional Triathlete and coach that has trifled the OCR community ever since he made his winning debut race in Cebu last 2019. He has since then become part of the 2021 POSF National team for OCR Short distances and a 2019 SEA games silver medalist for the 5KM OCR category.
Mervin Guarte A serviceman for the country and athlete, Mervin is a powerhouse on the field and always pushing his limits to the test. He is former Philippine Athletics athlete from 2011-2015 before he made his debut into OCR He is currently part of the 2021POSF National team for OCR Short distances and bagged the 2019 SEA games gold medalist for the 5KM OCR category.
Beef Co With OCR as his first sport ever, Beef embodies the transformation of going from OPEN races to AGE group to ELITE finishes harnessing a mentality to keep pushing a better performance than his last. The passion for the sport & brand did not stop him there as he joins Spartan Race Philippines blazing on and off the course continuing to make Spartan the leading Obstacle Course Race brand in the Philippines. Currently he is part of the 2021 POSF National Developmental pool for OCR Short distances
Diana Buhler Consistency and persistence are key, and no other words can describe how Diana puts it on the course. Diana has completed numerous Spartan Races globally making her a fierce competitor especially when you know she's on a roll cause you know she's a fighter and won't back down that easily. She bagged the 2019 SEA games gold medalist for the OCR Team relay OCR category.
Sandi Menchi The sky is the limit for this athlete. Known to be the top ultramarathoner and trail runner in the country, Sandi has been hitting the Spartan Race sport with ease. She is currently part of the 2021 POSF National team for OCR Short and the 2019 SEA games gold medalist for the 5KM OCR category
Glorien Merisco Pinay Chun li as most of you are familiar with. Glorien has been killing it on the course on a global scale, always bringing her "A" game, setting her eyes on the prize making her presence known as one of the toughest Spartans out there. She is currently part of the 2021 POSF National team for OCR Short distances and bagged 2019 SEA games silver medalist for the 5KM OCR category
The Spartan Philippines National Series
After the hiatus of the Spartan races in 2020, Spartan Race Philippines plans to go back in full swing this September to November 2021 at Batangas Lakelands in Balete, Batangas.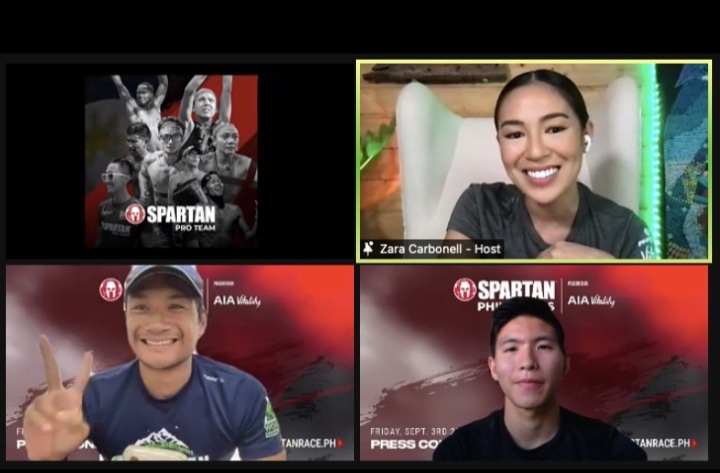 Venue: Batangas Lakelands, Balete, Batangas
Batangas Lakelands is an active lifestyle destination south of Metro Manila, teeming with natural resources and rich cultural heritage, this nature enclave composed of 8 active-lifestyle parks that features sports, leisure, and entertainment is offered to weekend warriors from Manila in a safe and secured area.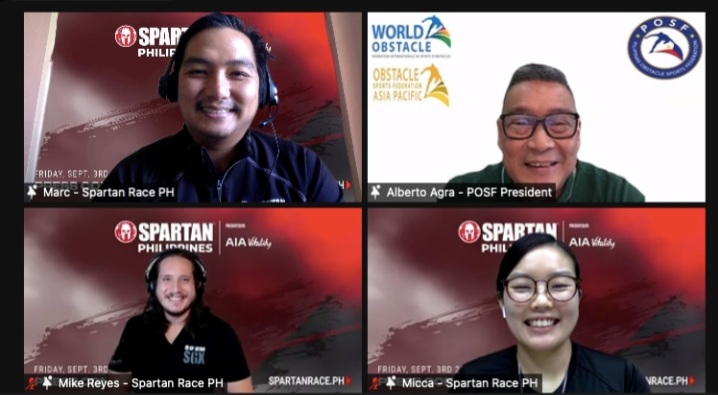 Dates:
Four Alternating Weekends of September and October:
• September 25 and 26, 2021
• October 9 and 10, 2021
• October 23 and 24, 2021
• November 6 and 7, 2021
Set-Up:
• Spartan SPRINT Product, 5KM 20 Obstacles
• Only Two Categories: Elite and Open
National Series Rules:
• Best 3 out of 4 races for the Elite Athletes will be counted towards their series ranking.
• All race levels are scored the same. Regardless of how many races you join, the total point will be considered for your series ranking.
• There are no separate Age Group divisions or Master's divisions within the Elite category.
• Only the First Heat of the Saturday Race will count towards the series ranking, other races held that weekend do not count towards the series.
• Due to the COVID-19 protocol, racers will be assigned to run in sets with a 5-second gap in between. Note that the first athlete to cross the finish line may not be the fastest due to the gap in start time and the final result will be based on the official timing chips.
For Runners:
• Runners will be asked to present either one of the following before entry to venue:
o Vaccine Card (Athletes will be grouped together on race heats depending on their vaccination status)
o A negative RT-PCR Test or Laboratory Generated Antigen Test not more than 72 Hours before the race
• Even with a negative result, racers must undergo triage prior to entering and must fill up the mandatory health declaration form and contact tracing.
• Masks are mandatory during the registration, festival/awarding spot, start and finish line.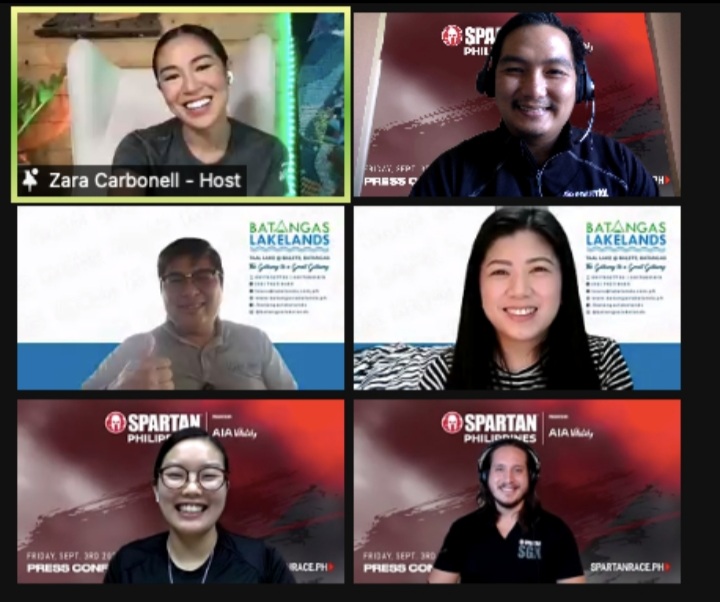 Spartan Race Philippines in the Now Normal
While people anxiously await the steady return of competitive racing amid the pandemic, its role and meaning continues to change during these trying times and moving forward. Racing is more than just an entertainment. It is more than just an escape from reality. Spartan Race, like most other races, is a platform for change. A platform to further the conversation. A platform to help, inspire, educate, and guide. With the help of our new roster of Ambassadors and Pro Team, we would like to be ready to open races in the Now Normal. The mentality to wait and expect things to go back to as it was before is over.
We need to switch our gears and prepare a plan to bring back races and galvanize people, to give hope, and to continuously train to become better humans.
For questions and concerns you may direct it to our email at marc.celis@spartanrace.ph and/or beef@spartanrace.ph
Read more about different stories of people, product reviews and events here on my blog and follow me on my social media accounts.
Read my column "Don't Miss This" at The Rizal Weekly Post
IG Name: www.instagram.com/Homeschoolingiscool
FB Name: www.facebook.com/ armi.pineda
Fb page:https://www.facebook.com/Homeiskoolcom
Www.facebook.com/HomeschoolWorld
Www.facebook.com/Kawaiibeautyandlifestylecom
Www.facebook.com/Mimiworldnet
YouTube Account: https://youtube.com/channel/UCAEszY-nm4XIPSphcppyilw
TikTok Account: https://vt.tiktok.com/ZGJkEHsLh/
Blog Site: www.Homeiskool.com
Www.Mimiworld.net
Www.Kawaiibeautyandlifestyle.com
Twitter
Www.twitter.com/Armipazpineda