In the field of triathlon, he shares his story of triumph, resilience, and dreams with the hope of inspiring and empowering others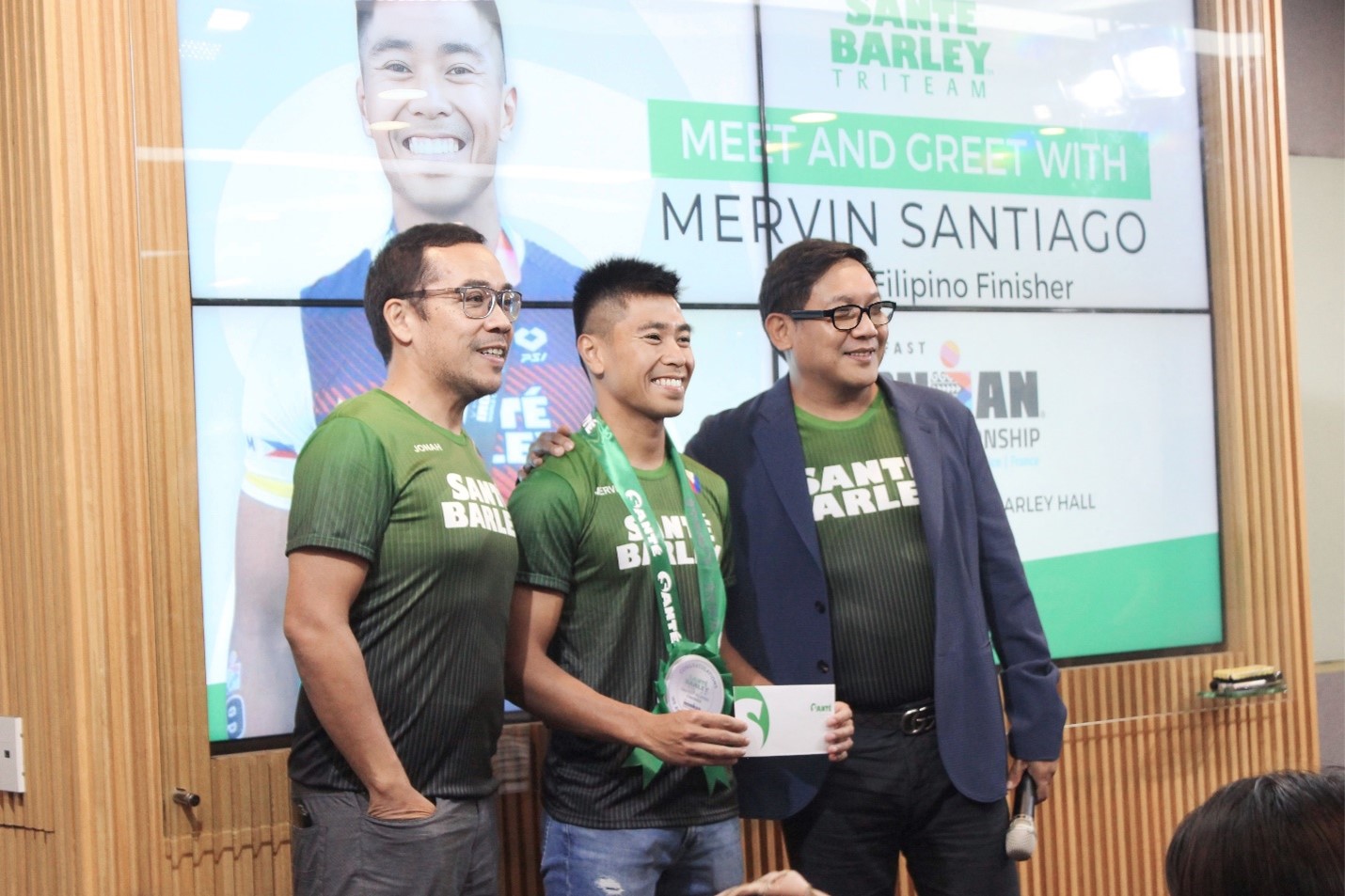 Other headline options:
Triathlon Triumphs: Mervin Santiago's Journey Beyond Racetracks
Embarking on a journey that transcends boundaries, Mervin Santiago's triumph in the IRONMAN World Championship becomes a beacon of inspiration for athletes globally.
Triathlete Bridging Passion, Sports to Reach the Finish Line
From the starting line to a triumphant finish, Mervin Santiago's story as the fastest Filipino finisher unfolds, encapsulating a journey of passion, resilience, and the pursuit to promote PH sports
Quezon City, Philippines – October 11, 2023 – Competing in Nice, France, while proudly carrying Philippine flag, was no small feat for Mervin Rencel Santiago, a member of the Santé Barley Tri-Team, who recently celebrated as the fastest Filipino finisher in the IRONMAN World Championship.
This achievement marked a challenging balance between life, career, and a fervent passion for sports. Yet, Santiago's unwavering determination rendered him unstoppable, propelling him to new heights both personally and for the local triathlon scene. Here, he shares his story beyond the finish line.
More than passion: a lifestyle. Known for his love of sports, Santiago's journey into triathlons is more of a lifestyle than aiming to win. Beyond being a triathlete, he serves as a fitness coach and bike fitter. Sports seamlessly integrated into his career, hobby, and passion, making the disciplined training for triathlons a natural extension of his routine.
"Some train solely for competition, but my goal is to stay healthy. Beyond IRONMAN training, it has become my regular workout routine so, naturally, it became part of my lifestyle. Honestly, even without competition, I would still follow this vigorous training," Santiago shared.
His dedication hasn't gone unnoticed by fellow Santé Barley Tri-Team members, including Santé CEO Joey Marcelo and Santé Barley Tri-Team Captain Jonah Rivera. Santiago's commitment to training, even at unconventional hours, is a quality admired by the team.
"It's rare to find a triathlete so passionate that sport becomes his reason for being. Sometimes you would catch him training even at night, and that is why he continues to achieve great feats in the triathlon scene," Marcelo remarked.
Despite the demanding schedule, Santiago maintains a well-balanced life. As a family man, he finds time to take breaks and bond with his loved ones, a sentiment emphasized by Rivera, acknowledging the challenge of balancing family life with the demands of being a triathlete.
The role of nutrition and health. Everything that transpired during the competition exceeded Santiago's expectations—a sentiment he emphasized when recalling his thoughts at the finish line. While he aimed to perform at his best because he carries the pride of Filipinos on his shoulders, Santiago's primary goal was to surpass his personal record.
"One thing about always aiming to be the best in competitions is it overshadows your true purpose—to grow and be better for yourself. My focus that day was to beat my own PR (Personal Record), with other achievements as a bonus," Santiago emphasized.
For Santiago, triathlons are a constant battle to maintain overall health. Losing focus before, during, or after the race was never an option. Ensuring a healthy body, mind, and soul became paramount, with Santé playing a vital role.
"Nutrition is crucial in endurance sports. Even with physical strength, without proper nutrition, it's futile. Santé's products provided the nutrition and supplements I needed to stay at the top of my game, allowing me to push my limits and achieve my goals," Santiago added.
Marcelo echoes this sentiment, emphasizing that the rigorous process of preparing for a triathlon necessitates a healthy companion. In a race involving three sports—biking, swimming, and running—a healthy support system is essential, one Santiago found with Santé and in Marcelo, Rivera, and the rest of the Santé Barley Tri-Team.
"The Santé Barley Tri-team started because we all share the same passion for the sport. This has become our bond and support system, strengthening camaraderie both as a team and as friends," Rivera said.
Shaping the future of triathlons in the country. Winning as the fastest Filipino finisher in this year's IRONMAN World Championship is like claiming a gold medal in the Olympics, as described by Marcelo. It's more than bringing home the trophy; it serves as a reminder to support Filipino athletes in sports.
Santiago shares this sentiment, viewing the competition as an opportunity to inspire people to explore sports for both lifestyle improvement and a potential career. "Of course, I will continue exploring the world stage and be the best version of myself. My journey as a triathlete continues, as does my mission to empower people to live more, do more," Santiago added.
The Santé Barley Tri-Team is poised to expand its reach, with plans to create a team for kids and teens. Their goal is to train them either for the Santé Barley Tri-team's professional team or the Philippine National Triathlon Team. Regardless of the direction, Rivera hopes Santiago's feat inspires people to engage in sports and exercise.
"All it takes is that very first step. That single step is enough to change your life because sports and exercising are good starting points to instill discipline and productivity," Rivera shared.
Perhaps, Santiago's story beyond the finish line will transcend racetracks and initiate a healthier change not just in the Philippines but across the globe.
With its mission to help people live better lives, Santé promotes, produces, and distributes natural health and wellness products and services. As the leading barley brand, Santé consistently delivers top-quality products to its loyal customers globally, solidifying its position as the barley authority.
To learn more about the Santé, the Santé Barley Tri-team, and its health and wellness products and services, visit its website at mySanté.com.
About Santé
Santé is one of the fastest growing distribution and direct selling companies globally dedicated to helping people live better lives. The company offers organic natural health and wellness products and services, designed to improve the quality of life of people around the world.
Santé continuously builds and helps drive business growth through its dedicated and independent business owners. Driven by its promise to bring value-adding wellness products and services to every home, the company is committed to equipping and empowering its business owners who help in promoting healthy and active lifestyles.
📩 𝘋𝘔 𝘧𝘰𝘳 𝘊𝘰𝘭𝘭𝘢𝘣𝘴, 𝘍𝘦𝘢𝘵𝘶𝘳𝘦, 𝘢𝘯𝘥 𝘗𝘳𝘰𝘮𝘰𝘵𝘪𝘰𝘯𝘴 ⬇️⬇️⬇️⬇️⬇️
IG Name: www.instagram.com/Homeschoolingiscool
FB Name: www.facebook.com/ armi.pineda
Fb page:https://www.facebook.com/Homeiskoolcom
YouTube Account: https://youtube.com/channel/UCAEszY-nm4XIPSphcppyilw
TikTok Account: https://vt.tiktok.com/ZGJkEHsLh/
Blog Site: www.Homeiskool.com
Twitter Www.twitter.com/Armipazpineda
Other social media accounts Www.facebook.com/Homeschoolingiscool Www.facebook.com/Mimiworldnet Www.facebook.com/Kawaiibeautyandlifestylecom Www.facebook.com/Hometowngoodiesandservices
For collaboration you can email me at armipazpineda@gmail.com