Local businesses benefited as shoppers flocked to the e-commerce platform to score mas mura deals on essential items for as low as ₱1 and ₱49 last 9.9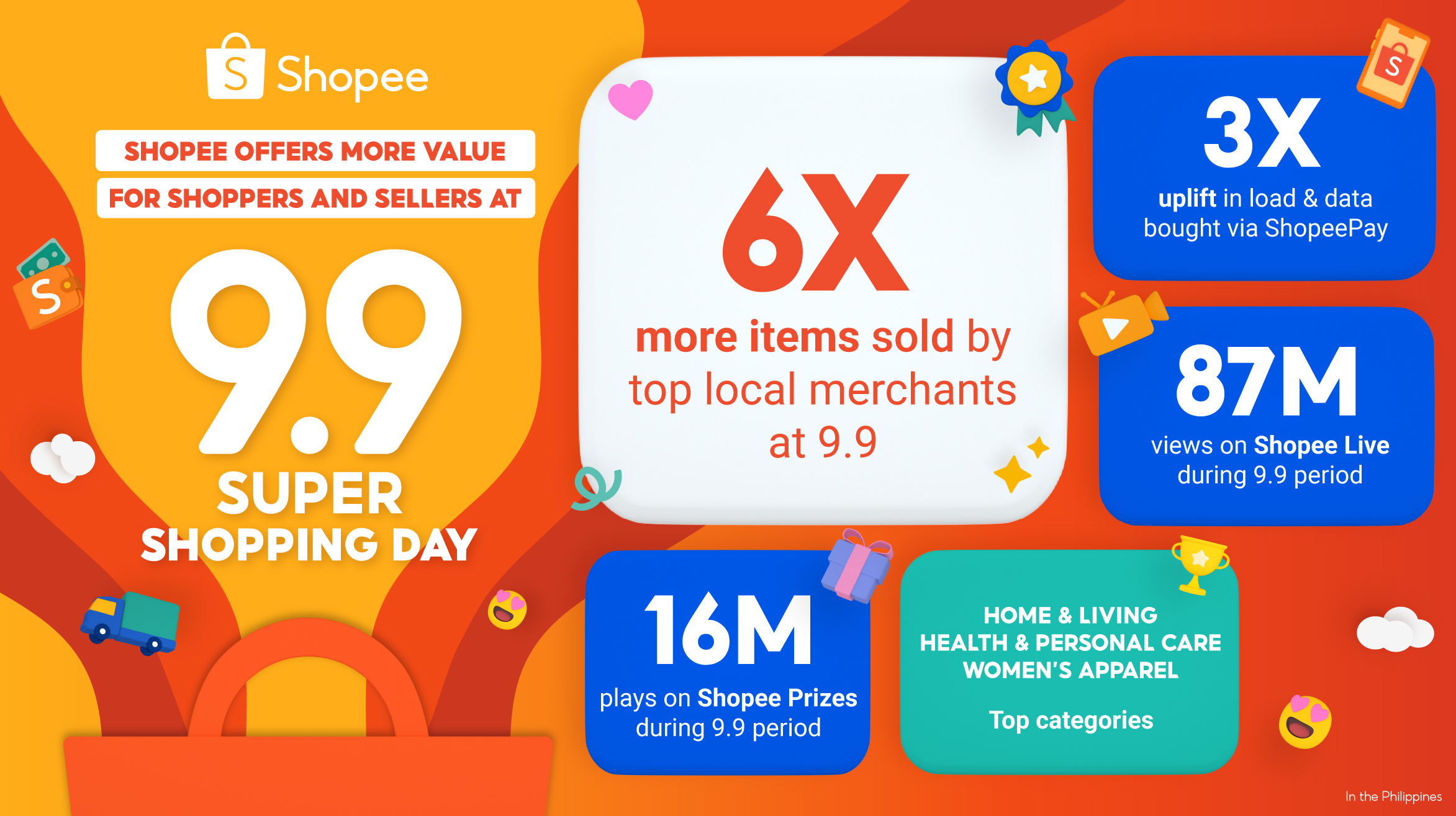 MANILA, 12 SEPTEMBER 2022 – The leading e-commerce platform in Southeast Asia and Taiwan continues to create memorable shopping experiences at 9.9 Super Shopping Day. Boosted by increased shopper traffic and support from Shopee's platform tools, top local sellers sold 6 times more items on 9 September than on an average day. These seller offerings in turn created more value for customers, who snapped up the best promotions and mas mura prices on items ranging from their daily essentials to the latest gadgets.
Shopee's 9.9 Super Shopping Day brings more benefits to Filipinos by providing buyers with convenient shopping experiences at the best deals, while helping sellers grow their businesses. Martin Yu, Director at Shopee Philippines shared, "We are committed to benefit online shoppers, by bringing them more joy, value, and excitement every 9.9. This drives us to use our platform to deliver the best value for money with our Mas Mura sa Shopee* offers, and to explore other equally fulfilling possibilities that serve the evolving needs of customers and businesses alike, especially as we gear towards another meaningful year-end shopping season."
Shoppers secured daily essentials at better deals
Shopee worked with sellers to curate a wide assortment of ₱1 and ₱49 deals, helping users get their money's worth when they shopped their everyday essentials in Home & Living, Health & Personal Care, and Women's Apparel during 9.9. Filipinos were keen to maximize the available deals in acquiring their daily necessities, with one shopper saving as much as ₱200,000 for essential back-to-school items like a new laptop, laptop accessories, and desk accessories.
Businesses achieved more traffic and a big boost to their sales
Local sellers took advantage of 9.9 to grow their businesses, with one top local merchant from Valenzuela City selling over 400,000 packs of face masks on 9 September alone. Another fashion accessories seller used Shopee Live to engage with their followers, gaining 80,000 views during their 9.9 livestream. Meanwhile, leading brands Uni-Care, Unilever Beauty, and Maybelline also saw a boost in orders as shoppers looked to Shopee for their go-to branded parenting essentials, personal care products, and beauty must-haves.
Shopee's in-app features brought more value and entertainment to all users
Shoppers were treated to plentiful days of fun from August 26, leading up to a star-studded TV special on September 9. Countless users tuned in to Shopee livestreams 87 million times and engaged with in-app games for over 16 million total plays throughout the 9.9 period.
ShopeePay brought users more convenience and rewards
Filipinos continued to enjoy seamless, value-for-money payments as they took advantage of ShopeePay's ₱1 Load & Data promos, with purchases tripling on 9.9 compared to a regular day. Local shoppers also used ShopeePay to pay off their wish list items on mobile phone accessories, skincare products, and kitchenware sets while payment transactions with various billers doubled during the super shopping day.
To stay updated on the latest mas mura deals and promos, download the Shopee app from leading app stores and follow Shopee Philippines on Facebook, Twitter, Instagram, TikTok, and YouTube.
About Shopee
Shopee is the leading e-commerce platform in Southeast Asia & Taiwan. Shopee promotes an inclusive and sustainable digital ecosystem by enabling businesses to digitalize and grow their online presence, helping more people access and benefit from digital services, and uplifting local communities.
Shopee offers an easy, secure, and engaging experience that is enjoyed by millions of people daily. Shopee is also a key contributor to the region's digital economy with a firm commitment to helping homegrown brands and entrepreneurs succeed in e-commerce.
Shopee is part of Sea Limited (NYSE: SE), a leading global consumer internet company. Sea's mission is to better the lives of consumers and small businesses with technology through its three core businesses: Shopee, Garena and SeaMoney.
For Feature/Promotion and reviews follow me
⬇️⬇️⬇️⬇️⬇️
Read my column "Don't Miss This" at The Rizal Weekly Post
IG Name: www.instagram.com/Homeschoolingiscool
FB Name: www.facebook.com/ armi.pineda
Fb page:https://www.facebook.com/Homeiskoolcom
YouTube Account: https://youtube.com/channel/UCAEszY-nm4XIPSphcppyilw
TikTok Account: https://vt.tiktok.com/ZGJkEHsLh/
Blog Site: www.Homeiskool.com
Twitter
Www.twitter.com/Armipazpineda
Other social media accounts
Www.facebook.com/Homeschoolingiscool
Www.facebook.com/Mimiworldnet
Www.facebook.com/Kawaiibeautyandlifestylecom
Www.facebook.com/Hometowngoodiesandservices
For collaboration you can email me at Armipazpineda@gmail.com